Who's ready to shop till they drop? One of my favorite hobbies is shopping and I LOVE Black Friday shopping. I know, I'm a little nuts. But there's something about being in the thick of things, finding the sales, and hunting down that one must-have item. It's a rush and also crazy stressful at times. It can also be overwhelming and a lot of times people are just plain rude. But I try to have fun and remember that I'm there to save money, not just for myself but for my family. I really do love finding that one special thing that someone close to me really wanted and at a great price.
Don't get me wrong, I don't believe in leaving Thanksgiving Lunch or Dinner to go shopping. I feel like the stores should wait until Friday, I mean that's why they call it Black Friday. But after all of the festivities are over, the football games have been watched and we've had our post-turkey time nap, it's time to shop! Time to gather up all the sale papers, bundle up and hit the stores. But this year, I'm going to head out with a plan, besides going to Belks for $20 boots. I love their boots!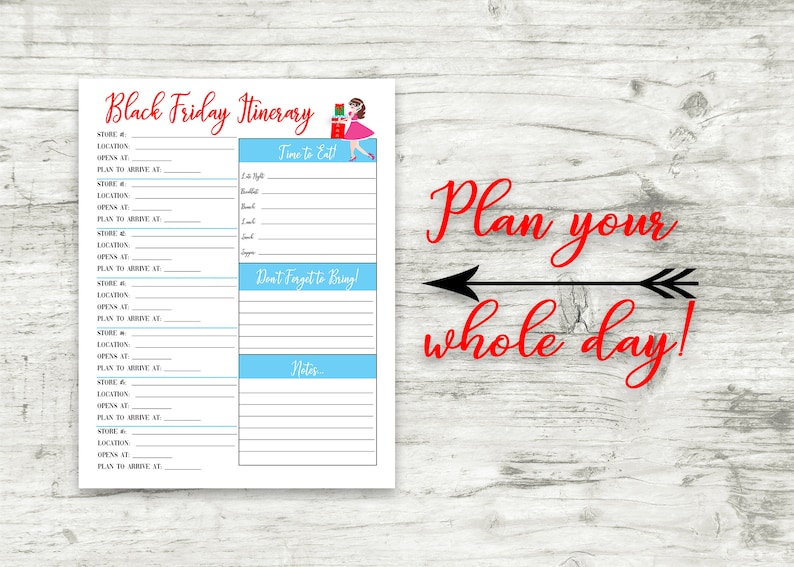 This year, I'll have my Black Friday Planner with me. I designed this cute, little planner as a pdf download, that way you can print as many pages as you need. When I go shopping this year, I'll have an itinerary, a budget, and more. I'll know exactly what I'm looking for in each store and I can give each person I'm shopping with, their own list so we can tackle it together. Divide and conquer! I can keep track of when the stores open, coupon codes, who I'm buying for and what they like and when I want to stop for a Holiday Flat White, which I'll be needing to keep me awake and alert while waiting in long lines.
But what if you don't like Black Friday shopping and you'd prefer to stay home, put on your Christmas pajamas and sip hot chocolate in front of your laptop? I've got ya covered! By the way, that actually sounds kinda wonderful! I've included an online shopping list just for you. Honestly, you can use any of the planner pages for online shopping just like you were going to the physical stores without having to deal with the long lines and all the craziness.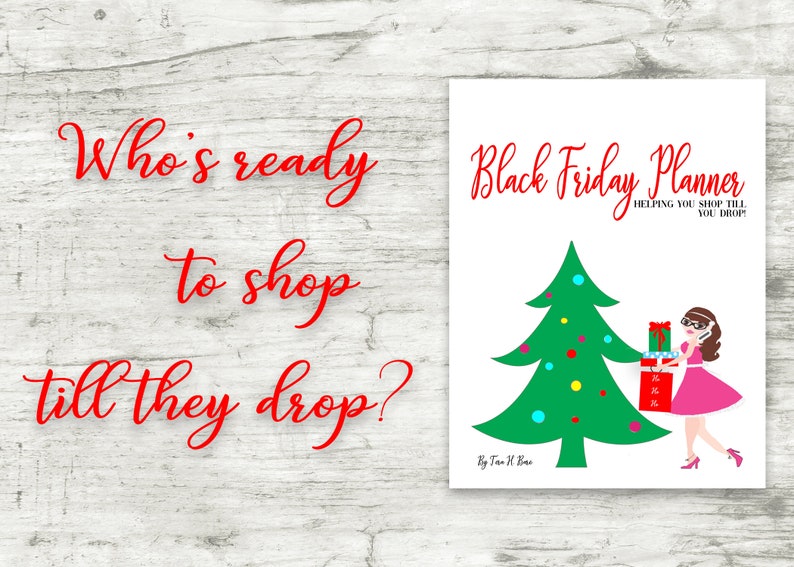 This cute book includes:
Budget – so you don't overspend
Gift Ideas- A place for sizes, gift cards they love, and gifts that they'd like to have
Wish List – You can print these out for the special people in your life to fill in what they are wishing for this Christmas. You'll know exactly what to get them!
Shopping Calendar that starts with Thanksgiving and goes through December so you can mark the best sales!
Itinerary – Going by yourself or with a group? Have a plan of what stores you want to shop at, what time they open and more.
Shopping List – Know exactly what you are buying, the price, coupons and more.
Online Shopping List – Whether you are Black Friday shopping or Cyber Monday Shopping, keep track of all your online shopping here along with coupon codes, delivery dates and more.
Per Store/Per Person Shopping List – Break down your shopping per store or give a list to each person in your group.
Black Friday Shopping Tips – All the tips you need to have a fun and safe shopping trip.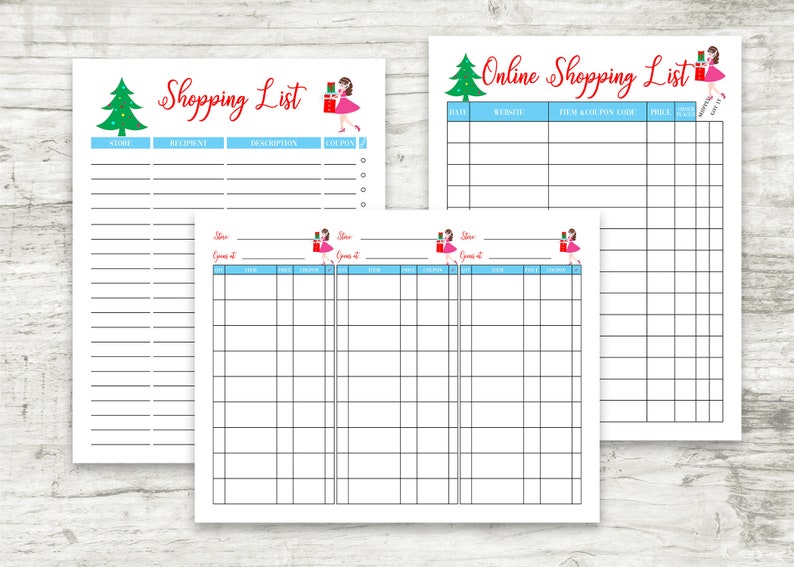 This book will help you to plan the best Holiday shopping trip ever! You'll be able to keep track of coupons, sales and so much more. I can't wait for you to use it. I can't wait to use it!
To purchase your own Black Friday Planner, please click the button below. It will take you to my Etsy Shop where you can make your purchase. As soon as your purchase is complete, it will send you a download link in an email.
And now for the freebie! I'm giving you the Shopping Planner Calendar as a freebie. You can use this calendar to plan when you want to go shopping. Use it to keep track of special sales that you don't want to miss, whether online or in a physical store or both. To download, click the button below.