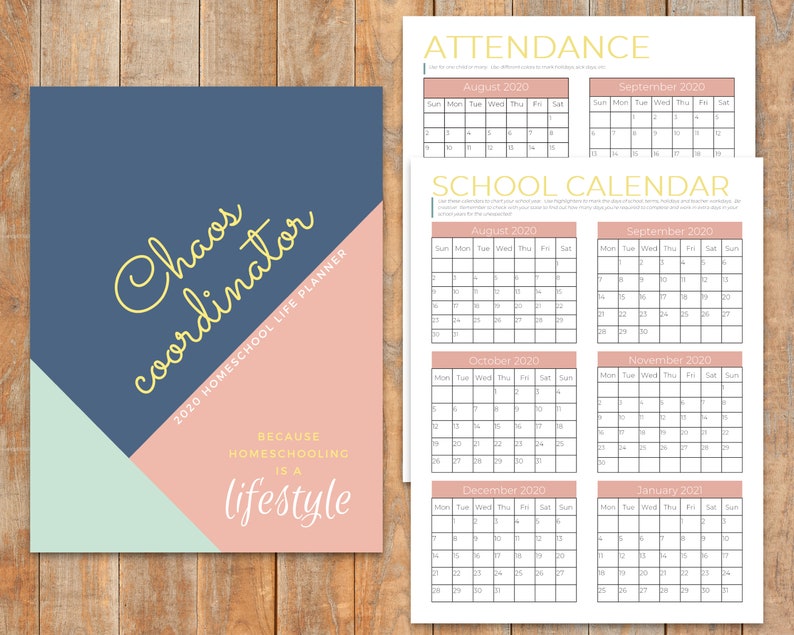 I'm so excited about this planner! I've completely imagined it this year. I've put a lot of thought into this homeschool planner. I know what it's like to homeschool and try to keep up with everything. It can be so overwhelming! But with a little planning it doesn't have to be. That's where this planner comes in.
From the gorgeous colors, to all the details that's included, you'll be homeschooling like a boss in no time. I've tried to include everything that I could think of that would help you organize your day, week, month and year. Take a peek inside!
Chaos Coordinator Homeschool Planner
Chaos Coordinator Homeschool Planner
Chaos Coordinator Homeschool Planner
Chaos Coordinator Homeschool Planner
2020-2021 Chaos Coordinator Homeschool Life Planner
Because homeschooling is a lifestyle! This planner contains everything you need to plan your homeschool and your day to day life. Being a homeschool mom is crazy busy and crazy fun and it can be a challenge keeping up with everything from lessons to classes, to baseball practice and what you're going to make for dinner. This homeschool planner is 173 pages of planning to help you plan your homeschool day and week like a boss! The colors are absolutely gorgeous in pale pink, mint, and dark blue. I am in love with this planner and had a blast designing it! Here is everything you get with it:
Tips to help you get the most of this planner.
A Doodle Board page because sometimes you just need a moment to doodle or jot down an idea.
Year at a Glance page that goes from August 2020-July 2021.
School Info page to keep track of pertinent school information like testing dates.
Calendar Considerations page is a month by month page to jot down anything you need to remember that happens each month as you plan your school year.
Attendance Calendar to record days your student attended school, was sick, etc.
School Calendar page where you can plan what days you will do school, holidays, etc.
Shopping Plan page to keep track of what you already own and what you still need to buy.
Course Names page is great for planning for high school when you need to name each subject an course.
Course Plans to help you stay on track.
Classes and Co-ops page to record any classes they participate in or use for life skills.
Goals page to plan goals for your students, yourself, or both.
Holiday Ideas pages for each month so you can plan your holidays, jot down ideas for special unit studies, lessons, crafts, movies, etc. that you'd like to remember to do or events you'll attend.
Schedule page that you can use any way you like to break down class times, chores, etc. to use for your students, yourself, or even your whole family.
Reading Log to record every book read or read-aloud.
Field Trip Log to record or plan for educational trips, or just to record memories.
Awards page to use for any type of accomplishment in school or outside of school.
Notes page broken down by student and subject to use for the current year or things you want to remember for next year.
Monthly Calendars that are 2-page spread so that you can see your whole month-at-a-glance.
Weekly Planner pages that are 2-page spread with plenty of room for…

To plan your assignments
Menu for the week
Record Prayer Requests
Exercise/PE (for you or your students)

Supplies needed
To-do list/Notes

*End of Month Notes page with room for…

Upcoming Events
A place to record Wins
Need to Work On
Supply List
This planner has everything you need to tame all the chaos and fun that comes with a homeschool lifestyle. And since it's printable, you can print as many pages as you need for your family. It's flexible enough to use with any type of homeschool teaching style.