I'm so happy to reintroduce this book! It's a planner and workbook all rolled in one. I just finished updating it for 2021 and couldn't be happier. This book has just about everything you could need to plan a homeschool graduation, party and or reception. Above is the new cover and below is the original design. To tell you the truth, I was never really happy with the original look, but now I'm in love with it! Let me tell you why you need this book if you have a graduate!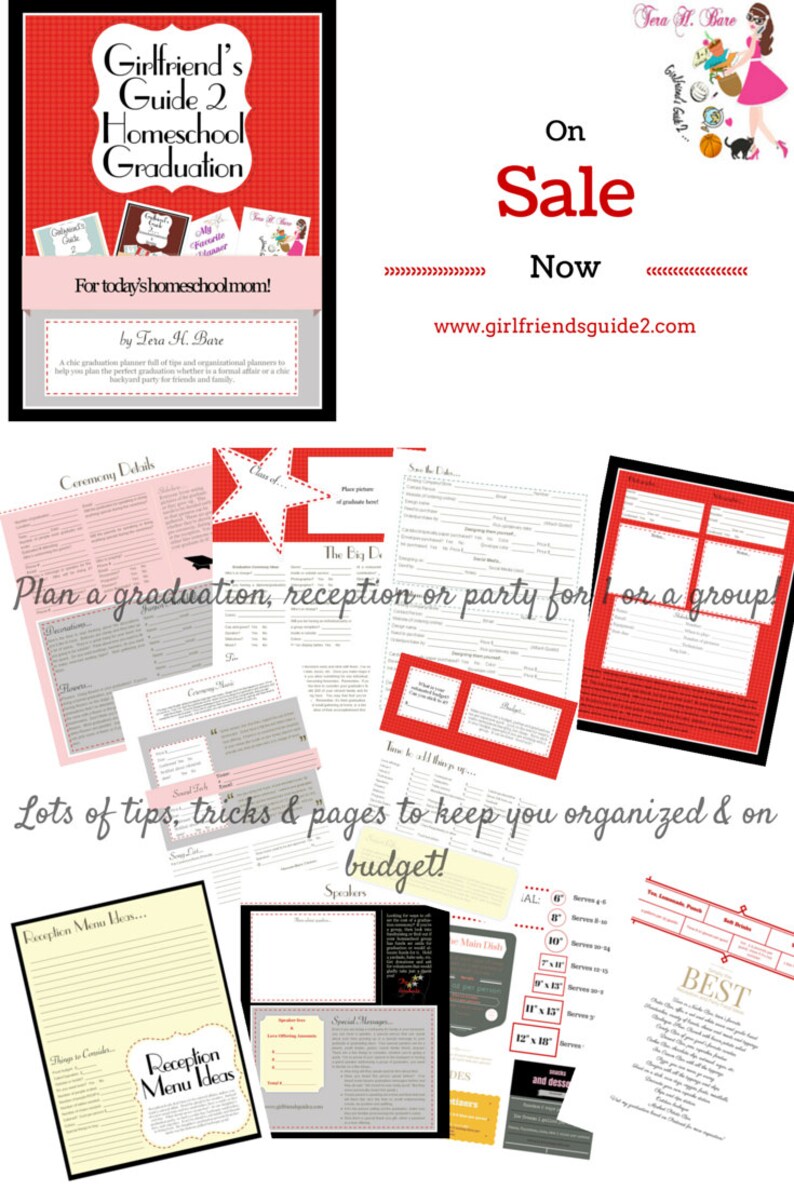 First off, I can honestly say that I know what it's like trying to plan a homeschool graduation. I have had three homeschool graduates. Two of them wanted just parties with no formal ceremonies and one was working so much, he didn't want to take time off for one, so I told him I owed him one day. I've also helped to coordinate Kindergarten graduation ceremonies and senior graduations when we were part of a homeschool group. Not to mention helping friends with their receptions and parties for their graduates. So, I've had a lot of practice! And the main thing I've learned is that you have to be organized.
When you have senior, there's a lot going on. From trying to fit in school, jobs, extracurriculars, prom, driving, etc. It gets hectic and that's just the tip of the iceberg. It's crazy and also crazy fun. You want to enjoy it hopefully as much as your senior does, but how in the world do you plan a graduation on top of all of that?
You have to decide if you are going to participate in a group graduation or do your own thing? Do you just want a party? Do we want it catered or just go to a restaurant? If we do a group, are we starting from scratch or do they have a graduation coordinator? This book is perfect for anyone that is coordinating a graduation.
I actually started creating this planner when my oldest, Becca was graduating. She wanted a party with friends and family outside near our garden where you could play volleyball. No graduation ceremony at all, just a fun party. Even with it being a party, and I've planned tons of them, there were so many details to think about. I needed to know if she wanted anyone to speak about her and her accomplishments. Did she want a specific person to pray? What kind of food did she want and who was going to make it? What about a senior display and decorations? Did she want to display any of her awards? What about invites and a billion other questions.
So, I started printing out checklists and to-do lists and by the time of my last child's graduation, I had this book and my youngest was the one that used it the most. She loves to plan her own parties. She wanted a very different type of party. We used our church's fellowship building and the guest list was a little larger, but each party was personal and unique. I love that she was able to use this book to plan and looking back over it, it's now full of memories. It definitely made planning so much easier and we knew where all the information was. it made us think of details we would've forgotten about without it.
The great thing about this book is that it will work for one graduate or a whole group. It doesn't matter what type of graduation or what type of party you're having. It will help you to have it all organized and make help you to make it unique to your graduate or graduates. That's the awesome thing about homeschooling! We don't have to do things like everyone else.
I decided to give this planner a whole new look. I changed the color scheme to softer colors and stripped it to a more minimalist look, which your printer ink will love. I also changed some pages to make them more cohesive and added some great new pages for even more organization, like the Volunteer Page, To-Do Lists, Calendar, Shopping Lists and more.
What's Inside…
About the Graduate Page
CeremonyPlanning Page
Reception/Party Planning Page
Graduation Information Page
Ceremony Details Planner
Ceremony Music Planner
Ceremony Decorations Planner
Speaker Worksheet with tips
Photographer/Videographer Worksheet
Stationery Worksheets (Save the Dates, Invitations, and Thank You Notes)
Cap and Gown/Diploma/Senior Pictures/Class Rings worksheets
Budgets
Guest List
Reception/Party Details
Menu ideas
Menu Planner
Who's Bringing What Page
Menu Shopping List
General Shopping List to use how you need
Catering Planner
Reception/Party Decoration Planner
Inside and Outside House Prep Checklists
Blank Monthly Calendar
Daily Planing Pages (List style)
Graduation To-do List
Reception/Party To-do List
General To-do List
Graduates List (One with header info and one blank)
Volunteer list
Notes page
Tips for working with a group
Tips wor working with your teen
Graduation Planning Countdown
Catering Guide
Receptions and Party Food Ideas
Other Things to Think About for Senior Year
As you can see, it's been updated a lot! I tried to think of everything and since it's a PDF download, you can print out the pages you need and as many as you need for yourself. If you have any questions or suggestions, please let me know. If you would like to purchase, please click the link below.