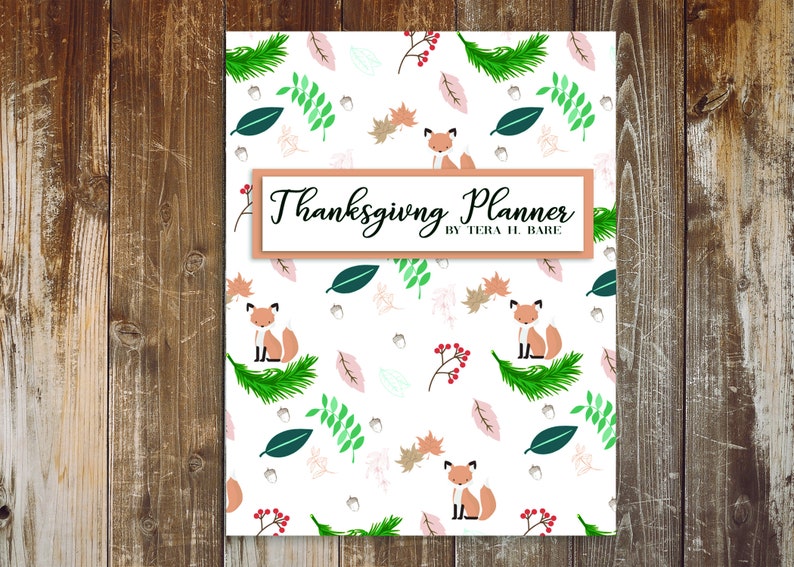 Ready or not, Thanksgiving is only a few weeks away. I can't believe it's almost here. I bet you can't believe it either. To help you get ready for the big day, I've got a planner for you. This Thanksgiving Planner is so cute and ready for fall with its woodland design and muted colors.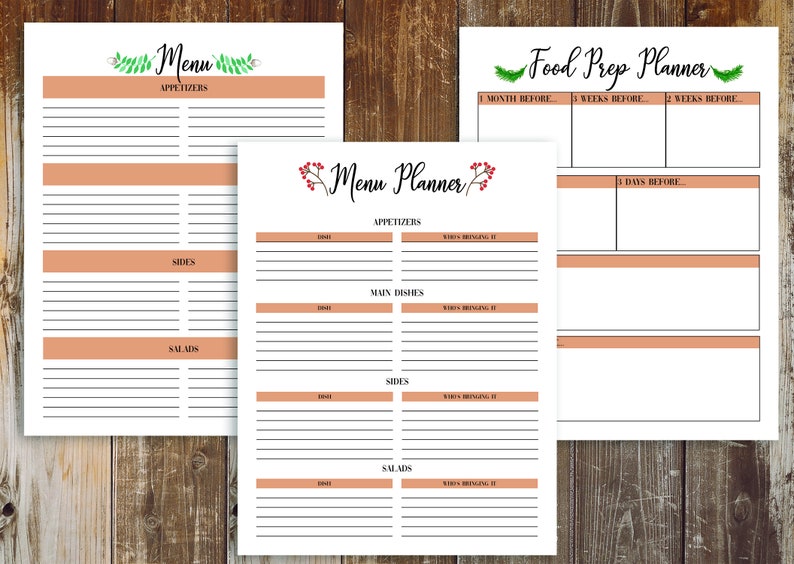 It's chocked full of pages to help you plan your best Thanksgiving ever. You'll always know how many are coming to dinner and if they have any food allergies or are allergic to cats because you can make a note of that in the guest list. When you and your family and friends plan the menu, you'll know exactly who signed up to bring the cranberry sauce. Then you can take your grocery list to the store and decide if you're going to make any food in advance and how far in advance you want to make it.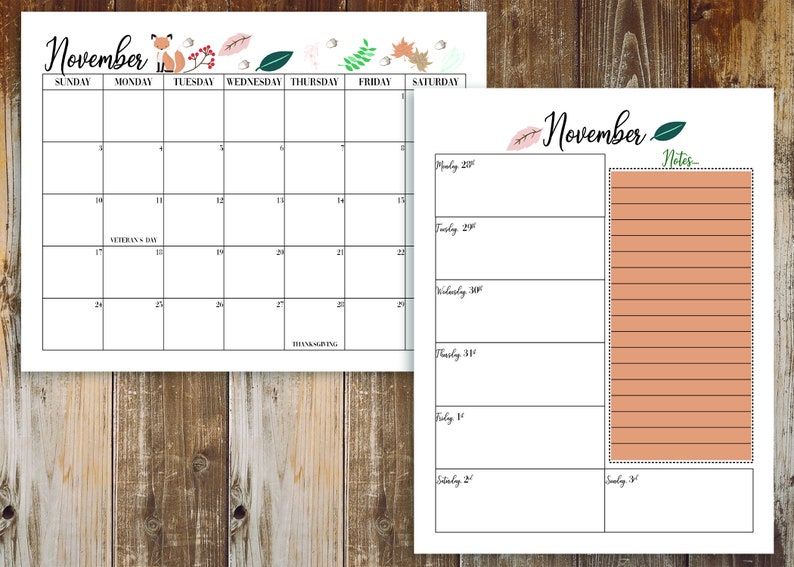 There's also a November at-a-glance page and Weekly/Daily pages. You these to keep track of important dates and when the family is coming into town. I've also included a Prep and Decor pages to give you cleaning and decorating checklists so nothing gets forgotten. And a Projects page so you'll remember all of those craft projects you were wanting to do for the holidays.
Not to mention a Gratitude Journal for recording all of those special thoughts and memories. Want to remember something for next Thanksgiving or just write down a note for this one? I have a Notes page just for that. Also, pages to help you know how much to make, printable recipe cards to share and printable leftover labels for sharing yummy goodies. There's so much to this planner!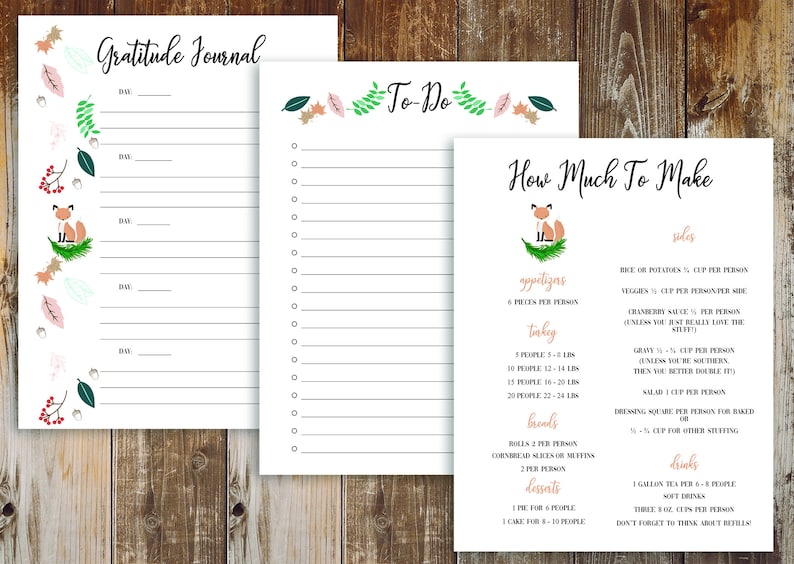 Bonus! I'm including my Black Friday Planner for free when you purchase the Thanksgiving Planner. It's my way of saying Thank You and wishing you a Happy Holidays.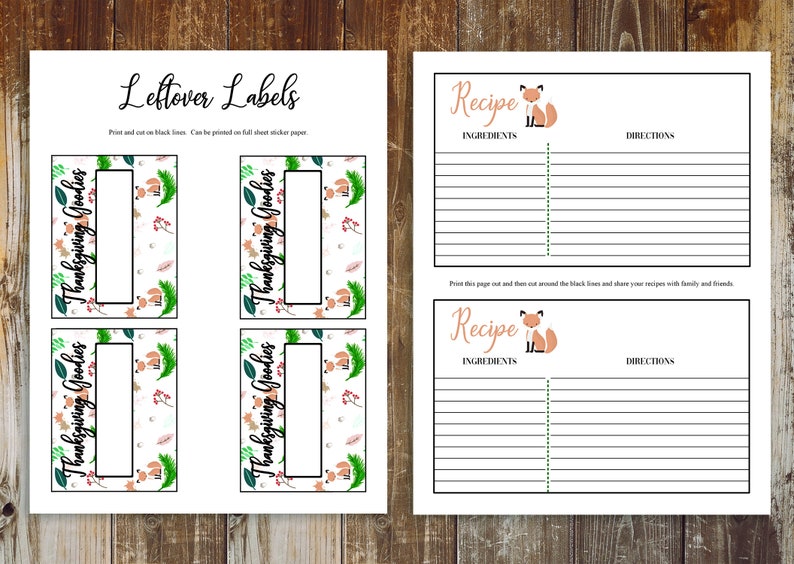 Included in the Thanksgiving Planner:
Monthly Calendar
Daily/Weekly Calendar
Guest List
Prep checklist
Decor Checklist
To-Do List
Menu Planner to keep up with what everyone is bringing.
Menu – when you have everything planned
Grocery List
Food Prep scheduler so you can freeze or prep in advance
Cook Times for the day before and the day of Thanksgiving
Recipe page to keep track of where all your Thanksgiving recipes are.
Recipe cards to share recipes to family and friends
Leftover labels to print for taking home goodies
Notes to jot down your thoughts for this year or next Thanksgiving
Thanksgiving Activities – ideas for when you're not watching football or need to entertain the kids
Gratitude Journal for recording your thoughts this holiday season
How Much to Make page so you'll know exactly how much to make for the family
**Bonus Black Friday Planner – Bonus Black Friday Shopping Planner included free!* It includes:
Shopping Calendar to plan key shopping dates
Wish List to give to each child, your spouse or anyone so you know exactly what they are wishing for
Gift list to keep track of everyone you are buying gifts for
Budget so you don't overspend
Two different types of shopping lists for per person or per store
Online shopping list
Black Friday Itinerary to plan your strategy
Tons of shopping tips to plan the best Black Friday shopping ever!
To help you get a jumpstart on the holidays, I've got a freebie! You can download the printable Recipe Cards for free. Get all of those recipes ready to share with family and friends. To download click the button below.
If you'd like to purchase this Thanksgiving Planner just click on the button below to go to my Etsy shop Tera Bare Designs.